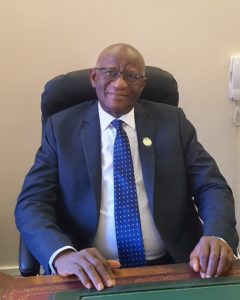 His Excellency Morie Komba Manyeh assumed functions as the Sierra Leone High Commissioner to the United Kingdom on 15th October 2019.
Dr Morie Manyeh holds a PhD from the University of Leeds in the United Kingdom and received his Bachelor's degree from the Njala University in Sierra Leone.
Previous to his appointment as High Commissioner to the United Kingdom, Dr Manyeh was the Minister of Mines and Mineral Resources of the Republic of Sierra Leone.
Dr Manyeh has served in various positions in academia including several senior lectureship positions in the fields of languages and linguistics at the Njala University in Sierra Leone. He also served as visiting Professor at the University of Alberta in Edmonton, Canada.
He has held several distinguished memberships including Member of the University of Sierra Leone Court and Senate, Member of Board at the Bank of Sierra Leone, Member National Commission for Democracy Committee, Member Institute of Adult Education and Member Board of Trustees, West African Examinations Council.
He has also provided numerous consultancy services to various Government Non-Governmental Organizations.
Dr Manyeh is a kin sports fan.
H.E. Dr Manyeh is married with four children.