Online Passport Form
Please submit the Online Passport Form and Get it delivered to your home address in UK
Visa Form
Please submit An online visa application Form And get the decision ASAP
Visit Blog
Please visit our blog for the latest news and updates.
WELCOME MESSAGE
MESSAGE FROM THE SIERRA LEONE HIGH COMMISSIONER, UK & IRELAND HE MORIE KOMBA MANYEH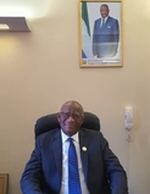 Fellow Sierra Leoneans, compatriots living here in the United Kingdom and all other countries of accreditation, we are all painfully aware of, and directly affected by the ongoing COVID-19 pandemic.
At a time like this, our humanity must speak out loudly from within our souls. At a time like this, we must support each other and work within prescribed Government guidelines towards the collective goal of keeping our communities secured and our people safe. We must also be firmly united in prayers and in hope.
The High Commission here in the U.K. (and I believe Sierra Leoneans everywhere) is justifiably proud to see the commendable strides being taken by our president, H.E. Julius Maada Bio, and the Government in leading this very serious battle against an unseen but deadly enemy.
I encourage every Sierra Leonean to follow current government guidelines and advisory in force wherever you are, to help ensure our collective safety and wellbeing. I wish you all a safe sail through this very difficult period.
Please stay in touch with the High Commission using the available phone and910nternet channels.
For emergency Consular services please contact us via email as follows; info@slhc-uk.org or via contact details provided on the High Commission's website at www.slhc-uk.org
Thank you and may God bless us all!
H.E. Dr. Morie Manyeh. High Commissioner, United Kingdom 30th March, 2020.